ALWAYS have a fresh towel at the ready. How many times do you wash your hands while cooking? Four times? Five times? More? The Smarter Apron ensures you'll always have a towel right in front of you at all times, ready to use instantly. It's like having your own personal butler follow you around and hand you a towel anytime you need one.


Great for drying a lot more than just your hands. Think of all the other things that need a quick rinse/dry in the kitchen besides your hands. The cutting board, your chef's knife, measuring cups, even produce. This convenience is addictive – once you try The Smarter Apron, you'll never want to cook without it.


Apron is waterproof. No matter how wet the towel gets, it will never soak through the apron and get you or your clothes wet. You'll remain dry and protected at all times.


Includes two towels. Toss one towel in the washing machine and you have a fresh one to use in the meantime.


Makes cooking more enjoyable. Spend less time cleaning and more time cooking!


Save on paper towels. Do the environment and your wallet a favor, use fewer paper towels. 


No more water droplets on the floor. Towels hanging on a cabinet handle leave water droplets on the floor. 


Comes with a 100% money back guarantee. If you're unhappy with this product for any reason, you can return it for a full refund within 30 days. 

Shipping

You'll receive your order within 3-5 business days from the day you ordered. All orders ship from our warehouse in Miami, FL via USPS priority mail.

Returns

We stand behind all our products with a 100% money back guarantee. If you're unhappy with this product for any reason, you can return it within 30 days for a full refund.

If you wish to make a return, please visit our returns page.
Customer Reviews
07/16/2021
Sara

United States
The Apron that keeps on giving
Wow! This apron is a game changer. Instead of constantly grabbing paper towels or wiping my hands on my apron I can use the Velcro attached towel that's always handy. Then when it gets dirty I just rip it off and throw it into the wash. The aprons comes with 2 towels so you have an immediate replacement if needed. Love the product. It will be a great gift too for all my foodie/chef friends.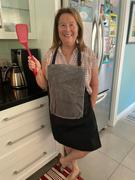 I really love this thing
There are so many applications for this thing. Aside from the obvious which is drying your hands, I find myself using it to dry off other things even more. The cutting board and my chef's knife are the two things that oftentimes need a quick rinse/dry. This apron makes this super convenient. Oh, and since it's waterproof, no matter how wet the towel gets, I always stay dry. Super cool invention.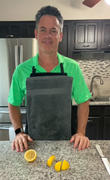 How has this thing never been invented until now?!
Such a clever and fairly obvious idea. It solves a major problem in the kitchen, how has this never been invented before?! Super cool. I know what I'm getting my inlaws for Christmas this year.
Really innovative idea
What an innovative little invention. I knew right away I was going to love this thing. I wash my hands upwards of 4-5 times every time I cook. Having a towel always there when I need it is soooo convenient. I use this every time I cook and I also love it for doing the dishes.